Casablanca Foolproof: Volume 1 *



Casablanca Expert Chet Davis provides you with the most thorough Casablanca video tutorial every produced! This brand new 3-disk set covers the entire latest Operating System* for the Casablanca, pointing out not only the new features in Smart Edit 8/Bogart 2, but also tips for both the new user and veteran alike.
View this DVD near your editor to maximize all the options in the new Operating System. Chet's familiarity with the software coupled with his expert teaching style make this tutorial, with
more than six hours of instruction
, a valuable resource for the full time video professional and the video hobbyist alike.
"Join me for a detailed exploration of the Casablanca Operating system. You will be amazed at how much you'll learn about your Casablanca -- I am confident that you will find my teaching approach both effective and enjoyable"
Chet Davis
Here are the main lessons/tutorials covered disk by disk
| | | |
| --- | --- | --- |
| Disk One | Disk Two | Disk Three |
| System Settings | Edit Screen (part 2 of 2) | Audio Mix Screen |
| Project Settings | Titling Screen | Finish Screen |
| Video Settings/Record | Transitions Screen | Arabesk Introduction |
| Edit Screen (Part 1 of 2) | Image Processing | Getting Started (Set-up) |
| | Audio Record/Edit | Bogart OS specific features |
NOTE:
Arabesk Introduction
contained on this tutorial is a brief introduction only to the Assistant setting in Arabesk - a thorough tutorial on DVD authoring with Arabesk 4 is available on Casablanca Foolproof: Volume 2 DVD Arabesk Intensive which is also available now)
Bogart Specific Features
- Chet shares the new features specific to the Bogart OS (AVCHD Import, Audio Tools, Archives & Intro to Media Manager). A full tutorial of the Media Manager available, this Casablanca Foolproof Volume 3: Media Manager can be found in the
on-line store here.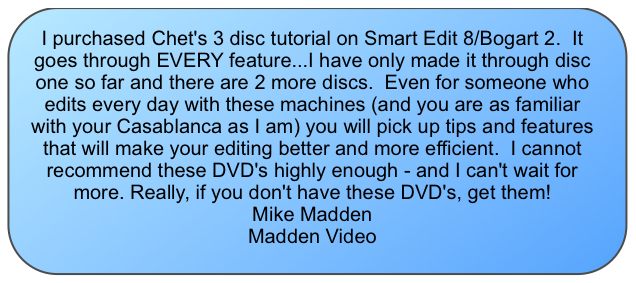 Chet mentions "
Now, I need to clarify that this is not an advanced or Tips & Tricks kind of video -- I wanted my first video to be an intensive, comprehensive walk-through of the entire OS, from cable connection through the Finish window.






But even Casablanca veterans will pick-up valuable information on the latest OS features like the Scene Markings & Action Options in the Edit Menu, the Font Import in the Titling Menu and the Graphic Overlay and Time Code display options n the Finish Window.
Click the playback button below to view a
short compilation of the Tutorial DVD
(4:34 length)




Scroll down to review two short (4-minute) excerpts
from the Tutorial DVD series.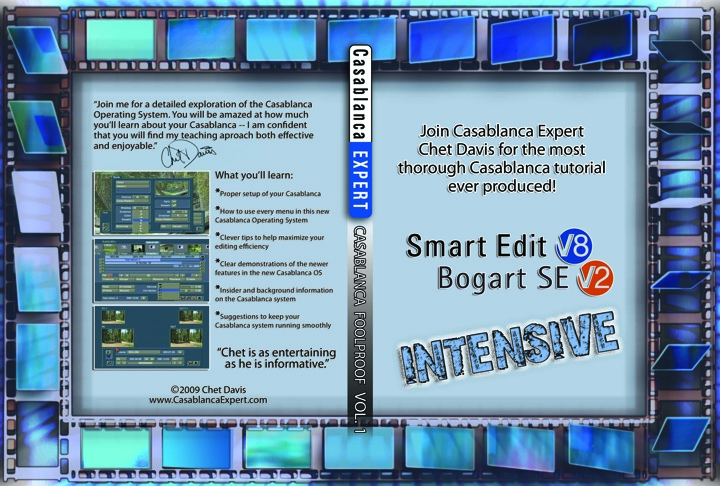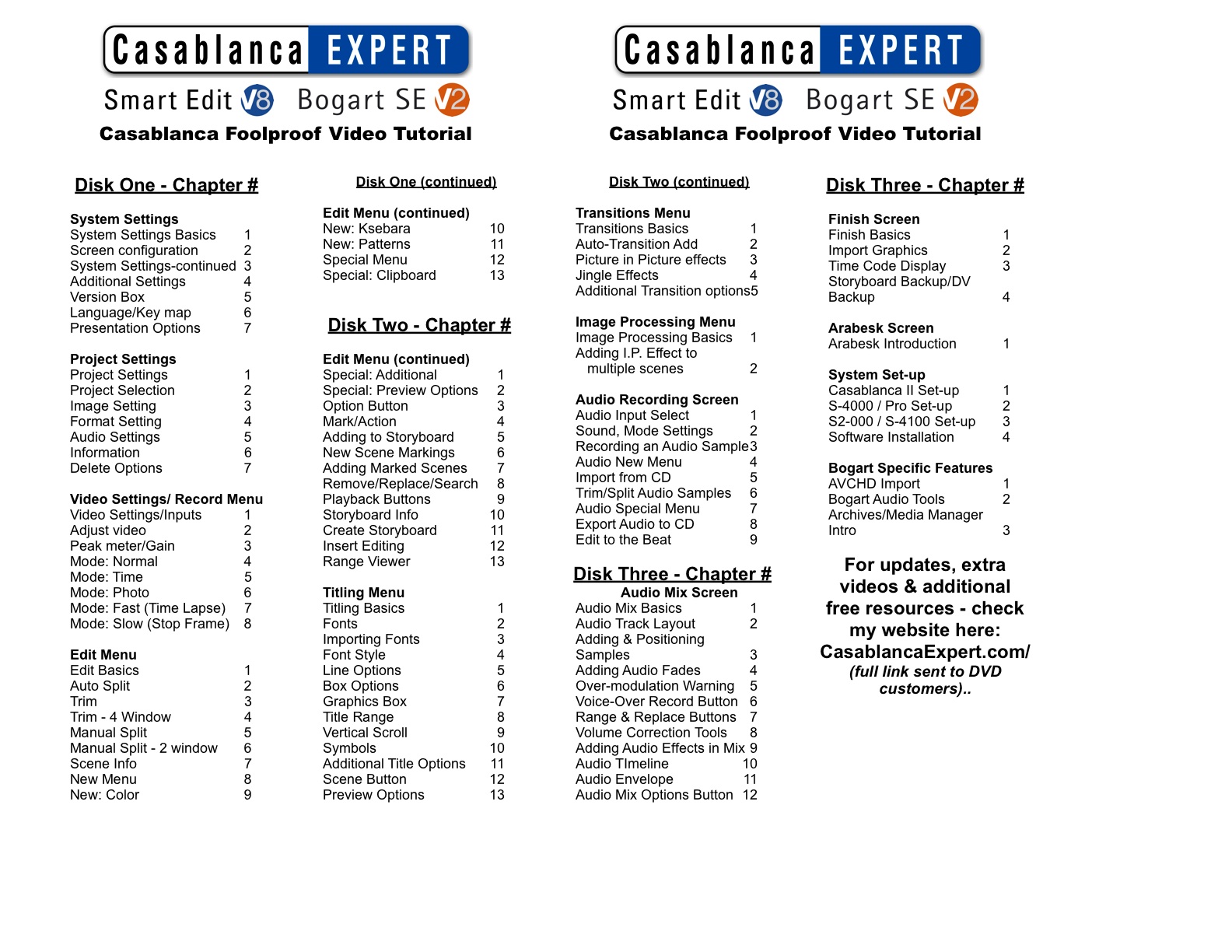 Click here
to preview the DVD Album cover
Click here
to preview the contents
for Casablanca Foolproof Volume 1 of Casablanca Foolproof Volume 1
These two short video excerpts from Casablanca Foolproof Volume 1 will give you a clear sense of
Chet's expert teaching style, his thoroughness and his easy demeanor

In this excerpt from the Casablanca Foolproof Volume 1 Tutorial DVD set, Chet Davis demonstrates
the functions found in the Color Menu in the Casablanca Edit menu (under the 'New' button).

Length 4:08




In this 2nd excerpt, Chet Davis teaches you how to use the Scene Grouping
functions found in the newer Casablanca editor Operating Systems.
Length 4:33



To order your own set of Tutorial DVDs - please see the online store here
http://www.casablancaexpert.com/store